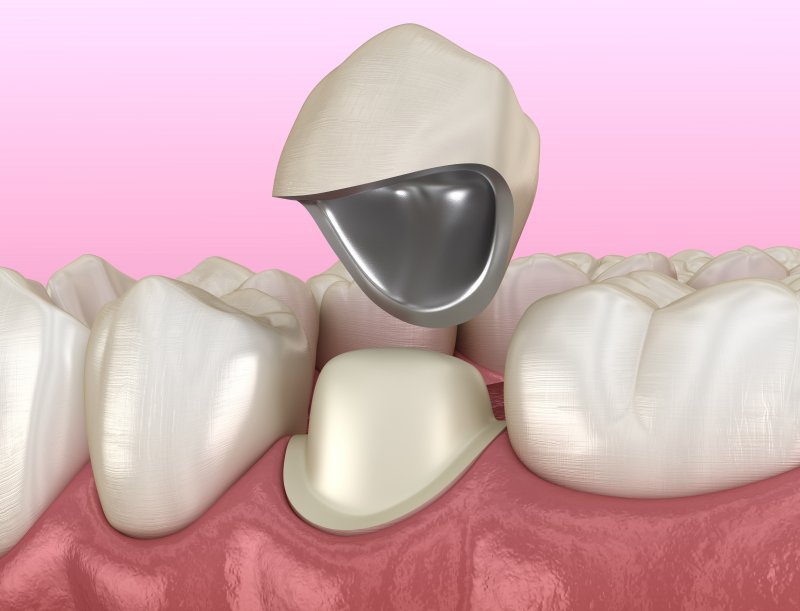 When a black line forms around a dental crown, it often leaves many patients feeling self-conscious. Designed to better protect vulnerable teeth, these customized restorations, which can be made from materials that blend into the smile, should make a patient feel confident in their appearance. So what causes the black line to form and how can it be avoided?
What Causes the Black Line to Form?
When porcelain-fused-to-metal crowns are used to protect weakened teeth, the results allow for greater durability and pleasing aesthetics. However, over time, the thin material can begin to show, especially when periodontal disease occurs, wear and tear causes the metal to show through, or decay develops underneath the crown.
When gum recession occurs with age, the metal portion of the crown can easily become visible, resulting in many patients opting to switch to metal-free restorations. However, if gum disease and/or decay is the reason, appropriate treatments must occur before a replacement can be created.
Gum disease is known for causing recession of the soft tissues and should be treated as soon as possible to minimize further complications.
How to Get Rid of the Black Line
Ridding a person's smile of one or more black lines is simple – removing the old crown and replacing it with a metal-free version. Instead of using porcelain-fused-to-metal to create a new restoration, a trusted and skilled dentist can have a zirconia crown made that blends in with existing teeth.
The process for placement is the same, no matter the type of material used. And, the crowns created using only zirconia are durable, stable, natural in appearance, and they are capable of standing up to daily wear and tear.
Meeting with a dentist to discuss desired goals is the first step in making the switch to a more aesthetic-friendly crown. Once an impression is taken, a new crown will be created by skilled lab technicians using metal-free materials.
When ready, the patient will return to the dentist's office to have the new crown bonded into place over the vulnerable tooth, effectively removing the previous crown and creating a more beautiful appearance that can help patients feel and look years younger.
Patients no longer have to suffer from unsightly smiles. Black lines can easily be removed with the help of blended, zirconia-created crowns. Talk to a dentist today to learn what is necessary to keep smiles looking and feeling natural.
About the Practice
At Grand Dental – Naperville, we provide our patients with access to durable and aesthetically pleasing dental crowns. Should an individual visit our office with an unpleasant appearance caused by a black line forming around the base of their crown, we can offer reliable restorative dentistry that is designed to not only improve oral health but also build confidence in one's appearance. Visit our website or call (630) 576-9970 to learn more.