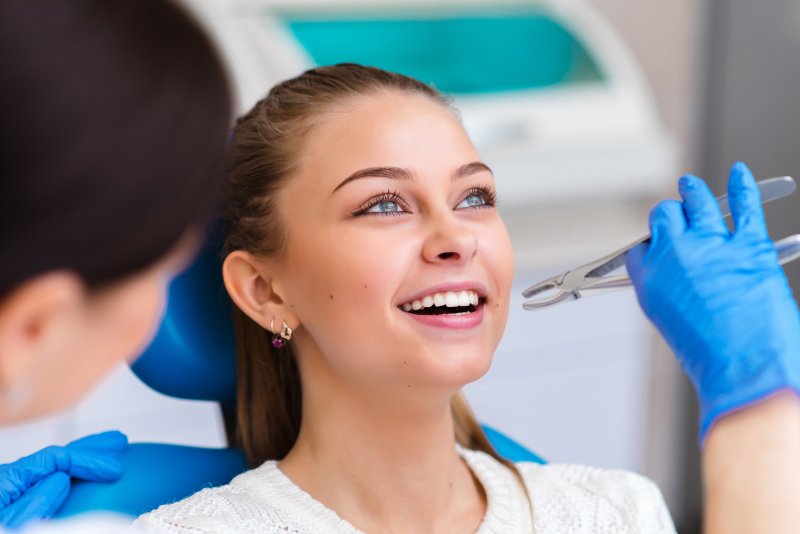 Gum disease is one of the most common reasons for tooth extraction. If the condition becomes severe, a periodontist often has no choice but to recommend extractions to protect the patient's long-term oral health. Why is this procedure performed? Does it directly help stop gum disease in Naperville, or is there another purpose? Removing natural teeth is always a last resort, therefore it is important to fully understand the treatment recommendation should you be experience gum disease requiring an extraction.
What Does Gum Disease Do to the Teeth?
While the initial symptoms of gum disease (such as red and swollen gums) are mild and relatively manageable, the situation will grow worse if it is not dealt with quickly. Once gum disease has reached the periodontitis stage, it poses a serious threat to the teeth. The bacteria infecting the gums will start to attack the bone and ligaments anchoring the teeth in place, causing them to come loose. Eventually, the damage can reach the point where the teeth start to fall out altogether. It is usually recommended that loose permanent teeth be removed by a professional who can ensure that the extraction is performed safely.
Can Gum Disease Be Treated with Tooth Extractions?
Even though tooth extractions in Naperville are often performed as a result of severe gum disease, the procedure does not treat the underlying cause of the infection. Extractions address a very specific symptom of gum disease for the sake of the patient's long-term oral health. Once the teeth in question have been removed, a periodontist can treat gum disease with a deep cleaning, also known as scaling and root planing. It usually takes multiple cleanings spread out over weeks or even months to complete the treatment. Other procedures may be recommended depending on the patient's condition. .
What Happens After the Tooth Extraction?
Extracted teeth should be replaced quickly ensuring the patient has two full arches for eating and speaking. The best option for replacing teeth is usually dental implants, which can perform the same functions as tooth roots. However, since gum disease breaks down the tissues needed to join the posts to the jawbone, it may not be possible to place dental implants until successful periodontal treatment is complete. It is up to the periodontist to consider the state of the patient's health and put together a plan for reversing the damage of gum diseases.
It is always best to have gum disease treated before tooth extractions are even necessary. Patients should make appointments with their periodontists as soon as they notice gingival bleeding, swelling, and other possible warning signs of gum disease.
About the Practice
At Grand Dental – Naperville, our team of specialists includes a skilled periodontist that always takes the time to fully illustrate the procedures he recommends; this allows our patients to make informed decisions about their periodontal care. We offer a variety of periodontal treatments in-house; in addition to traditional scaling and root planing, we can also remove infected tissue with our soft-tissue laser or perform gum grafts to reverse gum recession. To schedule a periodontal appointment, visit our website or call (630) 904-1000.